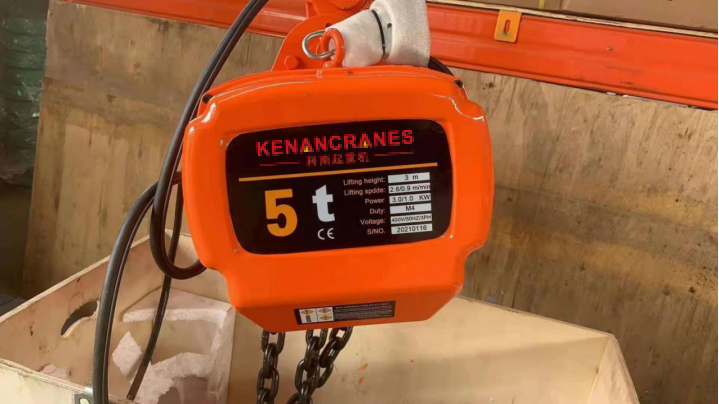 A hoist is a device used to lift and lower heavy objects. They are commonly found in factories, warehouses, workshops and construction sites. Due to its high load-carrying capacity, chain hoists allow field workers to transport heavy loads easily and safely.
Compared with other hoists, the advantages of chain hoists
Compared with electric wire rope hoists, electric chain hoists have significant advantages in terms of installation flexibility: electric chain hoists can be installed at a vertical angle to the centerline of the track, while electric wire rope hoists must be installed in line with the running track. The center lines are parallel. As a result, the distance for the electric chain hoist to move left and right on the I-beam beam is much larger, which is very beneficial to the application of rail-mounted cranes, such as gantry cranes (commonly used as gantry) for lifting operations.
Compared with electric wire rope hoists, electric chain hoists also have obvious advantages in positioning accuracy: during the lifting and lifting process, because the hooks of electric chain hoists move along the plumb line of the chain , Rarely occurs horizontal displacement, unlike the electric wire rope hoist with the axial arrangement of the wire rope winding process, the hook will also produce horizontal displacement along the axis direction, because the displacement is proportional to the lifting height, so when the lifting When the lift height is large, this error will be very obvious. Since this error will make the center of gravity of the heavy object and the center of gravity of the electric hoist not on the same vertical line, it will have a certain impact on the balance of the force of the two electric hoists, and then affect the lifting performance of the electric hoist and the lifting operation. safety.
Compared with miniature electric hoists, electric chain hoists also have obvious advantages in terms of the durability of transmission parts: the transmission parts of electric chain hoists are flexible hoisting chains, which are blackened and processed. Its core materials are all high temperature and oxidation resistant materials, which are durable, not easy to break, and have a long service life.
Combined with the above, the advantages of electric chain hoists are mainly reflected in three aspects: flexible installation, accurate positioning, and durability. In fact, there are also great advantages in the design of some parts, such as G80 lifting chain, scientific and humanized wireless door remote control, overload protection device, chain bag and so on.
Trusted Electric Wire Rope Hoist & Chain Hoist Supplier In China
No matter your needs, Kinocranes has all your load lifting problems covered. We supply electric hoists solution that can support various weights and load sizes.
If you want to know more, please contact us
Whatsapp&Cell: +8616650308213
Email: [email protected]