We have choose two samples of spider cushions for destructive test to check which is more reliable.
Below are the testing video:
These two spider cushions are the best in the market, We use a press to apply a maximum pressure of 50 tons to them respectively to see the compression effect of these two spider cushions. We use a press to apply a maximum pressure of 50 tons to them respectively to see the compression effect of these two rubber pads.
The final test results show that the red one is permanently deformed, but not broken; the blue one has better resilience and little deformation, but there are cracks at the connection.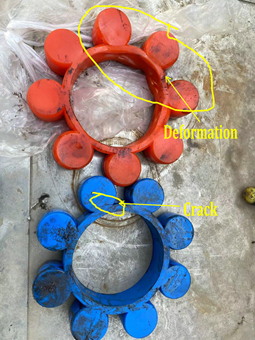 Destructive tests are not representative of actual usage conditions. It can only simulate the stress state of spider cushions and the reaction under extreme conditions to a certain extent.
Generally speaking, blue spider cushions have better recovery and compressive strength.
Cranes' Spider / jaw couplings instruction
Plum/spider coupling is a widely used coupling, also called jaw coupling, which is composed of two metal claw discs and an elastic body. The two metal claw discs are generally 45-gauge steel, but aluminum alloys are also useful when sensitive loads are required.
The spider elastic/cushions are generally composed of engineering plastics or rubber. Since the elastomer is under compression, it is not easily stretched. Since the elastomer has the function of buffering and damping, it is used more in the occasion of strong vibration. The performance limit temperature of the elastomer determines the operating temperature of the coupling, generally -35 to +80 degrees.
Plum couplings are well balanced and suitable for high-speed applications (up to 30,000 rpm), but cannot handle large deviations, especially axial deviations. Larger eccentricities and declinations create larger bearing loads than other servo couplings. Another issue of concern is the failure of the plum coupling. Once the plum blossom elastic spacer is damaged or fails, the torque transmission will not be interrupted, and the metal claws of the two bushings mesh together to continue to transmit the torque, which is likely to cause problems in the system.
The plum coupling needs regular maintenance. If the spider/plum elastic is found to be deformed or damaged, it should be replaced in time to avoid accidents caused by the coupling continuing to work without colloidal buffering.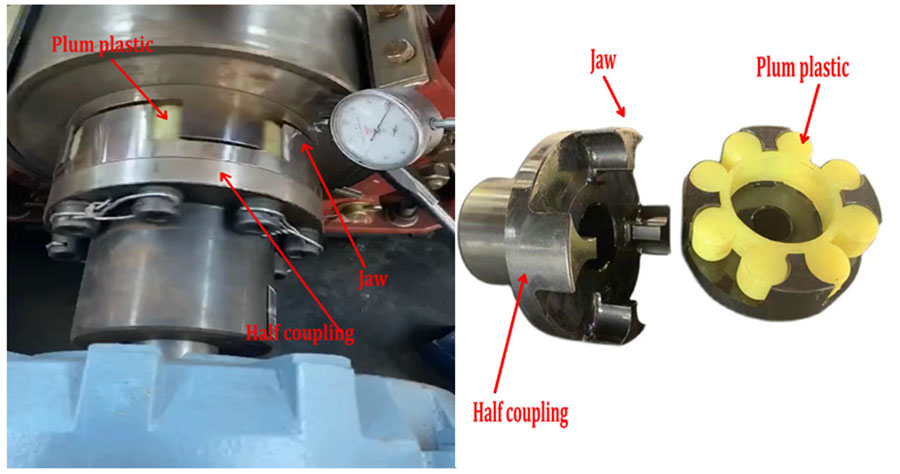 Case:
Kinocranes received one of our clients feed back as below:
On Friday dated 11th February 2022 , 30 ton crane ( SC WIP CRANE ) hoisting coupling jaws broken ( gear box side ) and spider collapse suddenly during working, after said accident service center facility completely shut down ( for next 30 hrs. to restoration of crane) . kindly discuss with your expert of premature failure of coupling jaws.pic attached for your reference .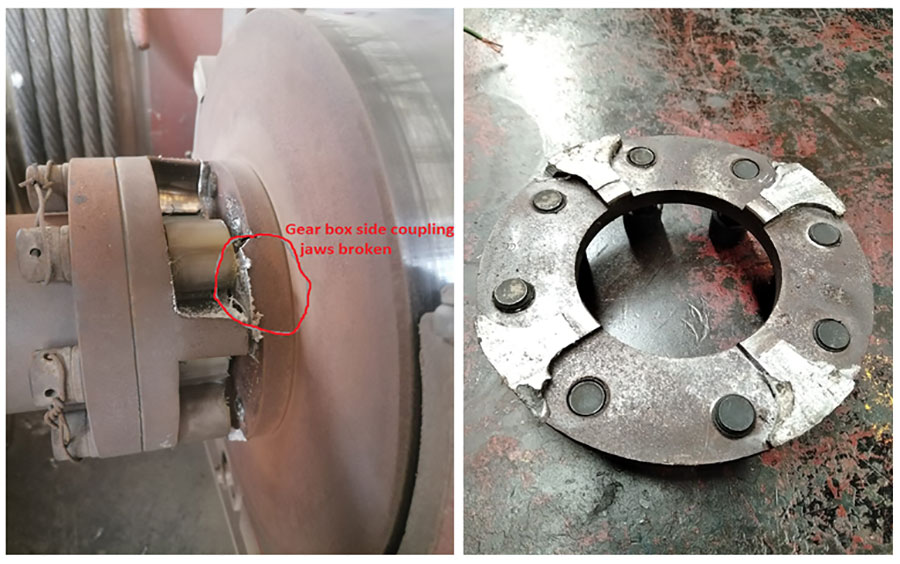 Preliminary analysis:
The plum plastic has been worn out for a long time and has not been replaced, and a strong stress has occurred between the jaws of half couplings, causing the jaw to be sheared.