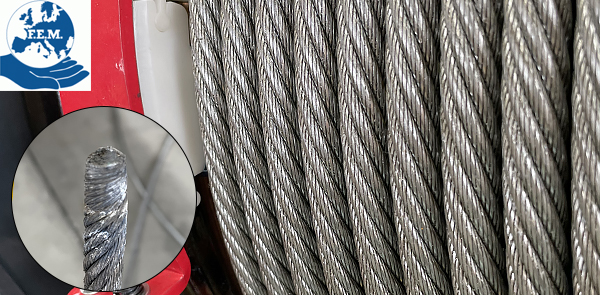 Wire rope is one of the important parts of crane equipment, it is related to the safety performance of the entire equipment.
There are two selection methods in the standard, the minimum practical factor of safety which is valid for running ropes and static ropes, the C factor method applicable to running ropes only.
They have a common calculation bases, the crane hoisting wire rope is used as a dynamic rope, and the minimum practical safety factor is usually selected according to the following table(Table T.4.2.2.1.2).
Of course, if you choose a higher level of actual safety factor, the diameter of the wire rope will also increase, which will affect the diameter of the drum and pulley, thereby increasing the overall cost of the equipment.
In the next article (December 2, 2021), we will analyze the influence of the diameter of the wire rope on the diameter of the drum and pulley. We look forward to your attention.
Table T.4.2.2.1.2. - Factor of safety Zp
Group of mechanism

Minimum value Zp

Running ropes

Static ropes

M 1

3,15

2,5

M 2

3,35

2,5

M 3

3,55

3

M 4

4

3,5

M 5

4,5

4

M 6

5,6

4,5

M 7

7,1

5

M 8

9

5

Note: For crane wire ropes for lifting dangerous goods, the Zp value in the work level selection table should generally be one level higher than the design work level.

The minimum safety factor for metallurgical cranes shall not be less than 7.1.